New EZ-USB GX3 controller conforms to ultra-thin USB Type-C port
This article refers to the address: http://
And the trend of thin and light system design transformation omitting the Ethernet port
Cypress Semiconductor Corp. today announced a high data throughput, low power SuperSpeed ​​USB controller that converts Gigabit Ethernet (GigE) data to USB 3.0 data. The EZ-USB GX3 controller is targeted at notebooks that use ultra-thin USB Type-C ports and eliminate the need for larger Ethernet ports. GX3 provides driver support for all major operating systems including Windows, MacOS, Linux, Andriod and Chrom, enabling seamless hot plugging via USB 3.0 ports on laptops, tablets, docking stations, IP set-top boxes and smart TVs Pull out the operation.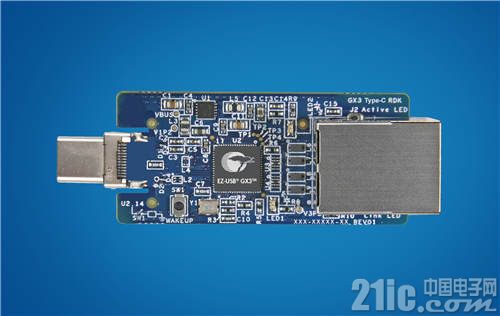 Cypress presents its EZ-USB GX3 controller, EZ-USB SuperSpeed ​​USB product line and EZ-PD USB Type at the USB Alliance's booth #910 at the Intel Developer Conference, August 18-20, 2015. -C power supply product line.
Traditional USB 3.0 to GigE bridge solutions have limited data throughput and face power management challenges. In terms of data throughput, converting GigE packets to USB 3.0 packets reduces the throughput of USB 3.0 to GigE bridge controllers to 700-800 Mbps. The EZ-USB GX3 uses a unique data transfer mechanism that provides multiple 910-Mbps throughput over a single burst of GigE packets, which is closer to the 950-Mbps data throughput of the GigE solution. In terms of power consumption, traditional USB 3.0 to GigE solutions are difficult to support low-power modes in the USB 3.0 and GigE standards, but the GX3 provides an energy-efficient solution that includes multiple power-saving modes.
Mark Fu, senior director of marketing for Cypress's USB 3.0 product line, said: "Apple® MacBook® removed the Ethernet interface a few years ago, and Ultrabook and Chromebook have followed suit, but consumers still want GigE connectivity. For high-definition video content and other applications that require high bandwidth, our new EZ-USB GX3 solution provides seamless connectivity to all USB 3.0 systems with high data throughput GigE Ethernet, whether through standard USB Type-A The new USB Type-C port. The GX3 further enhances our SuperSpeed ​​USB product line with our groundbreaking programmable EZ-PDTM USB Type-C power supply solution and EZ-USB HX3 USB 3.0 Hub, Cypress Has been able to offer a true single cable docking solution for notebooks, tablets and other portable devices."
The EZ-USB GX3 controller includes an on-chip Gigabit Ethernet MAC and PHY that supports 802.3az energy-efficient Ethernet and other advanced power management features, including wake-up from LAN access, dynamic power-saving mode when idle or low traffic, and The AutoDetach function that "soft disconnects" the GX3 from the USB host when the Ethernet cable is removed. The USB PHY and controller are fully compliant with USB Connection Power Management (LPM) regulations and support U0, U1, U2 and U3 low power states. In addition, GX3 includes an IPv4/IPv6 packet checksum offload engine (COE) to reduce CPU load and perform IPv4 IP/TCP/UDP/ICMP/IGMP and IPv6 TCP/UDP/ICMPv6 checksum generation.
The USB Type-C standard is rapidly gaining support from top PC vendors, with small form factor, easy-to-use connectors and cables capable of transmitting data from multiple protocols and the ability to deliver up to 100 watts of power—with the previous 7.5 watt standard Compared to significant improvements. The Type-C standard connector has a plug height of only 2.4mm, which is significantly smaller than the existing 4.5 mm USB Type-A standard connector. And it also allows USB signals to be transmitted through the same connector, as well as display port signals. For more information on Cypress's USB Type-C and USB powered solutions, please visit:
Availability
The CYUSB3610 EZ-USB GX3 controller is currently sampling and is packaged in a 68-pin QFN. In addition, Cypress offers a USBType-C to Gigabit Ethernet transceiver reference design with complete hardware design documentation (circuit diagrams, board layout, etc.).
About Cypress's EZ-USB product line
Cypress's SuperSpeed ​​USB (USB 3.0) product line starts with EZ-USB FX3TM and is the industry's only programmable SuperSpeed ​​USB (USB 3.0) peripheral controller. The product line currently includes EZ-USB CX3TM camera controller, EZ-USB FX3STM on-chip RAID controller, EZ-USB SD3 memory controller, EZ-USB HX3TM hub controller and EZ-USB GX3 USB 3.0 to Gigabit Ethernet bridge controller.
WOSENS TECHNOLOGY Co., LTD , https://www.wosenstechnology.com