Cell Type:
Rechargeable Battery
With Light Source:
With Light Source
Transport Package:
Gift Package
5800T Solar Rechargeable Lantern, Solar Rechargeable Camping Lantern, Solar Camping Lamp Rechargeable LED Lantern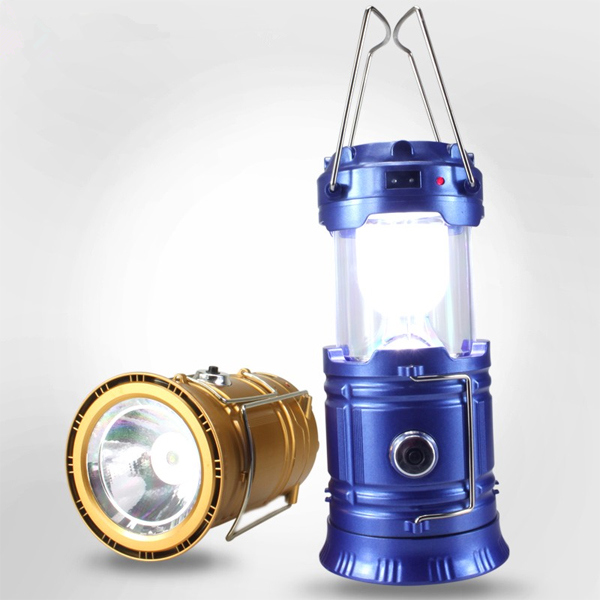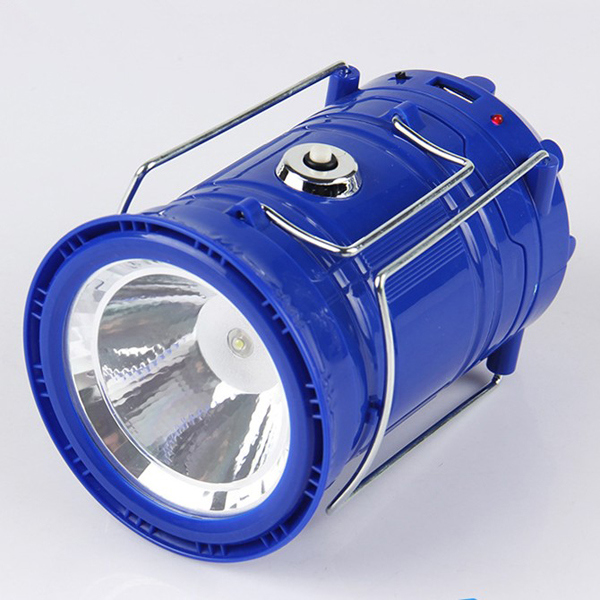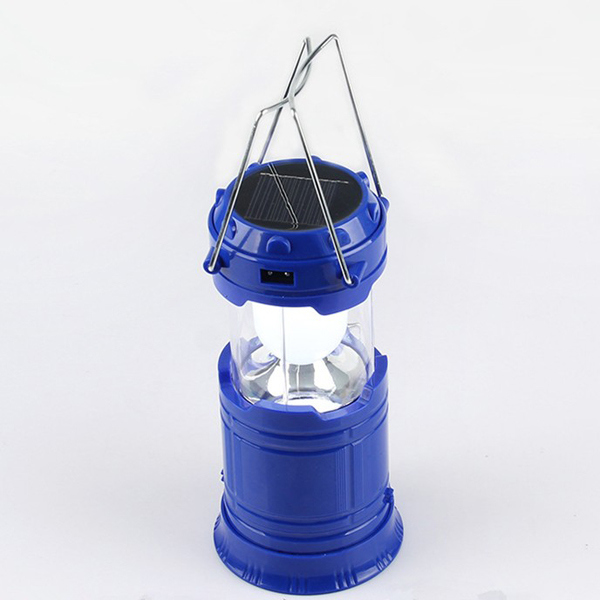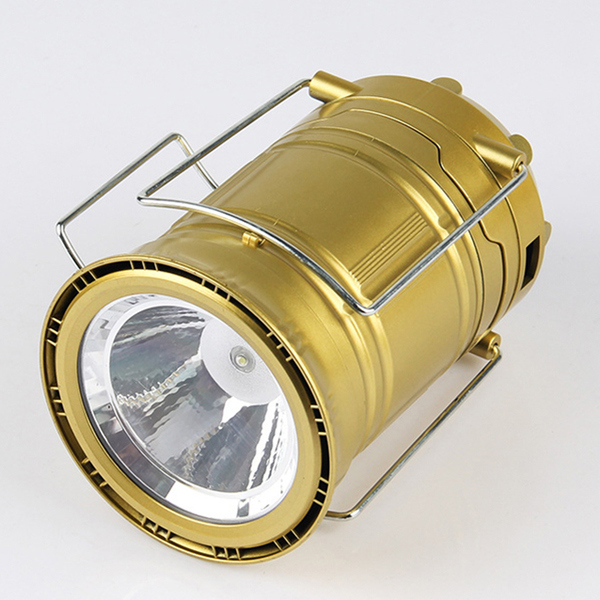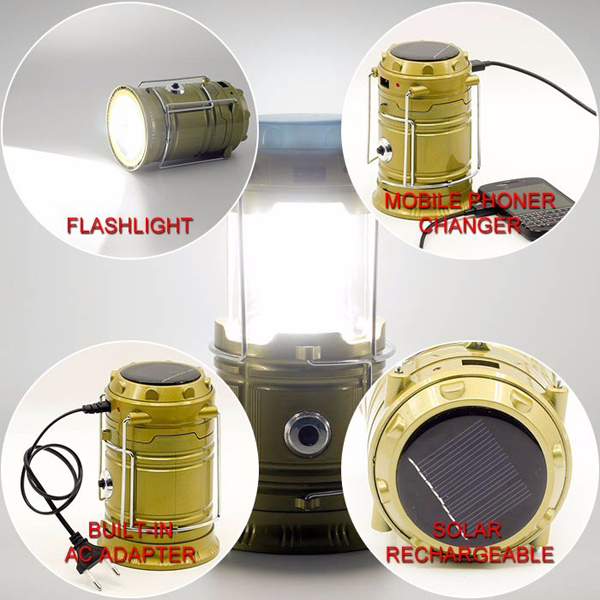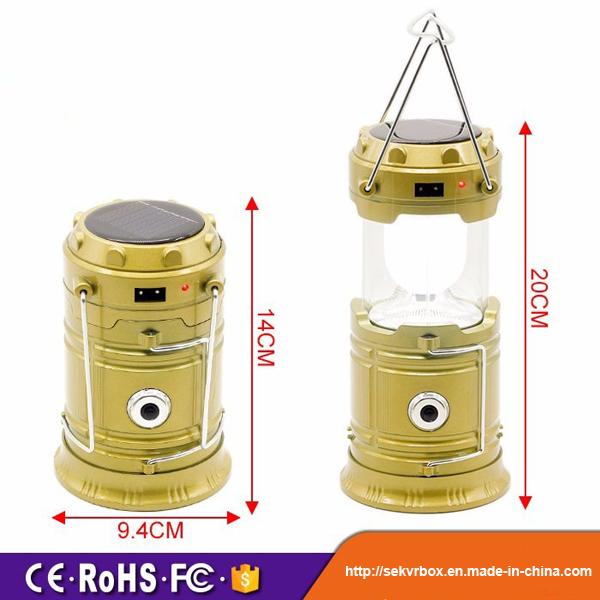 Description:
 
ADVANCED COLLAPSIBLE DESIGN: Superior design and construction allows our lantern to be SUPER lightweight and compact.

the lantern is EASILY collapsible with a simple push;

USB EMERGENCY CHARGING: Emergency backup Charging for the use of most Android mobile phones and mobile devices (Not Support Iphone IOS Devices)

It is rechargeable and also have solor power supply;

This camping light also could work as a flashlight but press the button ;

This camping light with a handel with is take away very easily;

Colors: 4Â colors are optional(black, golden, brown, and blue);

Weight: 300g(net weight), 349g(gross weight);

Charging: solar charging, USB charging, and direct charging;

Battery: it comes with its own lithium battery;

Solar energy: charging the battery with solar energy as long as there is sunlight;

USB charging: you can charge mobile phone by connect with the item and also can charge for itself by connect with charger.
 
How to process:
1. Switch
The positive of battery is inward(lamp side) and the negative is outward(tail);

The switch is in the bottle: turning on the lantern by long-press, adjusting light by lightly pressing;
2 Circuit board
By using advanced voltage constant current technology, can effectively solve the LED flashlight on the constant current regulator requirements.

Note:

a. Do not use it as overtension, the battery voltage should not exceed 4.2V;

b. The battery positive should be upwards but not inverted, otherwise it will burn the control board;

c. Pay attention to touch temperature changes and ensure the the heat dissipation;

d. Non-professional do not open the circuit board.

Warranty: separating or dealing with overheat board would not be guaranteed.
3. Lithium Battery:
Feature: the charding of lithium battery is total different from mobile phone; the lithium battery has no memory so that it could be chargeable at any time, do not overcharge or over discharge;

It should be charged over 6Â hours for the first time, and should stop to charge when the green light turns on;

Please use charger with anti-overcharge, anti-reverse and anti-shour circuit;

The battery should be fully charged and used every 3 months when you need to use it for a long time.
4. Touch:
The torch is in used, according to the torch voltage and battery requirements for selection, not to abuse, prevent burning circuit boards, do not use batteries with different models, different boltage at the same time.

In use, the torch should be turned off when the light of torch changes in case over-dischaging;

Cooling skils: during using, make sure the heat dissipation. Use the torch when the battery is fully charged, it is best to use the second gear which could make the caps and flashlight batteries have long life. Do not irradiate eyes directly in case affect the vision, especially kids' vision.
5. Checking and Repairing:
Check the battery: Ensure battery has power and installed batteries in correct direction, do not use different brands of batteries and mix old and new batteries;

Check the tail cap: Make sure the swithch has been tightened and well contacts, ensure that the tail cap and the tail cap pillars pressed sheet metal ring well contact, pay attention if the watch cap is loose.
 
Package Including:
1*solar lantern;

1*USB line;

1* colorful box.
 
| | |
| --- | --- |
| Product Name | LED Camping Lantern |
| Light Color | White color |
| Quality | We have professional QC to test the quality one by one |
| Payment | Paypal, Western Union, Bank Transfer, Moneygram, Escrow, etc. |
| Sample | You can get a sample to check first. |
| Lead Time | 1-3 working days |
| OEM service | Yes |
| MOQ | NO |
| Pictures Supply | We can supply you pictures without our company logo or with your company logo |
| Shipping | FedEx   DHL    EMS   UPS   China Post   HongKong Post   |
 

Contact:
Jack
 
 
FTTH is an optical fiber directly to the home of the foreign language abbreviation, the Chinese abbreviation for fiber to the home. Specifically, FTTH refers to the optical network unit (ONU) installed in the home user or business users, is the optical access network in addition to FTTD (fiber to the desktop) closest to the user's optical access network application type. A significant feature of the FTTH is not only to provide greater bandwidth, and enhance the network transparency of data format, rate, wavelength and protocol, the relaxation of environmental conditions and power supply requirements, simplify maintenance and installation. Speaking of FTTH, first of all, we must talk about fiber access. Optical fiber access refers to the end of the transmission between the user and the fiber as the media. Fiber access can be divided into active optical access and passive optical access. Optical fiber transmission technology is the main technology of optical fiber subscriber network. At present, the multiplexing technology of optical fiber transmission is developing very fast, and most of them have been applied in practice. According to the depth of the user's degree of fiber, can be divided into FTTC, FTTZ, FTTO, FTTF, FTTH, etc..

Fiber Optic Adapter,Optical Cable Adapter,Fiber Patch Panel,Fiber Termination Box
Chengdu XingXingRong Communication Technology Co.,Ltd , http://www.xxrtx.net