Which is the best for a big screen smart TV? Xiao Bian made recommendations for the current 65-inch 4K smart TV product, detailed analysis of the operating performance of the large-screen smart TV's cost-effective models, to help users gain insight into large-screen smart TVs and make better choices!
A TV's first impression of the user, the most intuitive is often the screen size. Although many people know that TVs with large screens are certainly good TVs. But people are subconsciously using screen size as the first measure of a TV. It can be said that TVs with large screens are not necessarily good, but TVs with small screens certainly cannot provide enough shocking viewing experience.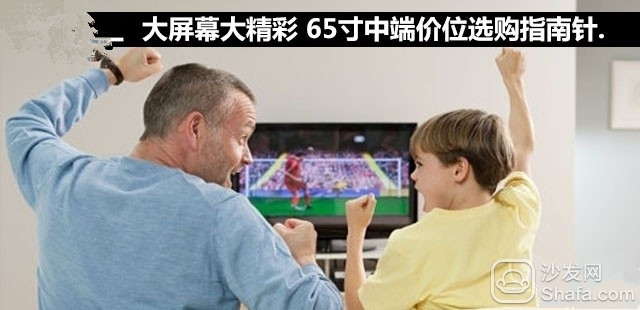 A large enough television screen can occupy a larger area in the human eye and can be closer to people's actual visual experience, so it can provide a more realistic feeling. And a large enough screen can also significantly enlarge the picture of the TV, allowing the user to clearly recognize the details in the picture. In addition, as the center of the living room, TV can often reflect the family's style and taste. In addition, the large-screen TV can bring a very high sense of technology to the room decoration. The large living room, if placed on a small screen TV, can not help but look a bit shabby.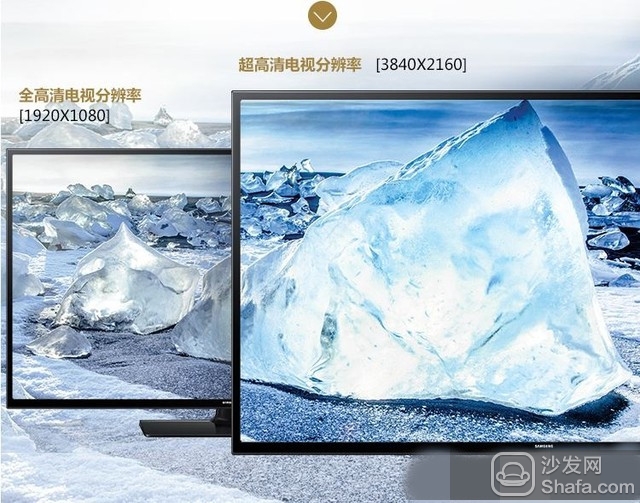 Also worth mentioning is the 4K resolution, a large part of the users know that the reason for the large TV size is not necessarily good lies in the resolution, the simple screen becomes larger and does not make the hard resolution higher. If it is the same resolution, a small-size TV can provide a more sharp display effect, but a simple enlargement of the screen size will increase the display graininess, which will have a great impact on the viewing experience. The 4K resolution technology perfectly complements this shortcoming. The so-called 4K is to provide several times the pixel resolution of 1080 resolution, so that the picture is more clear, for a larger and clearer screen becomes possible, with the development in recent years, 4K display device prices have gradually close to the people, the heart than action, Quickly add a big screen TV to your home!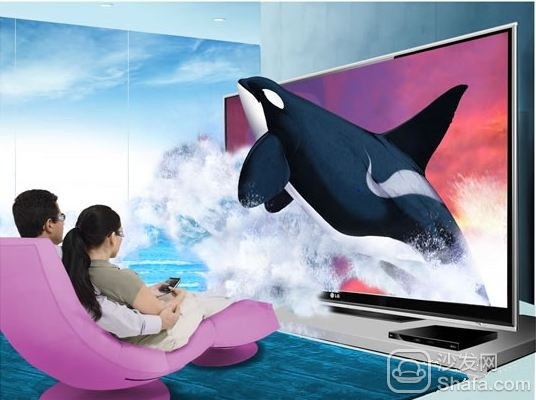 In the past, a 42-inch screen was enough to be the overlord of the living room. But now the TV screen is getting bigger and bigger, the area of ​​the living room is getting bigger and bigger, and people's demands for the screen are getting higher and higher. At the moment, at least 50 inches of screens are needed to qualify as a big screen. And now 60-inch, 65-inch, 70-inch, or even 100-inch screen TVs are getting richer. The following Xiaobian classmates brought us several 65-inch TVs with relatively affordable prices. We hope to provide some help for TV shopping.
In the current market, large-screen 4K smart TVs are undoubtedly the mainstream focus in the market, and have become the preferred choice for many fashion home users. Today, we hereby recommend to you that Hisense LED65K5500U is a giant 4K screen era masterpiece, with no homepage design, The four major applications of one-touch direct access and waterfall-style channel-changing traits attract a large number of consumers and can quickly access video playback. The 65-inch screen is highly visually pleasing. The colorful 4K+ technology ensures the ultimate performance of ultra-high definition video quality. Jingdong Mall special sale, only 7399 yuan to start, there are friends interested in this product can be in-depth understanding of this site.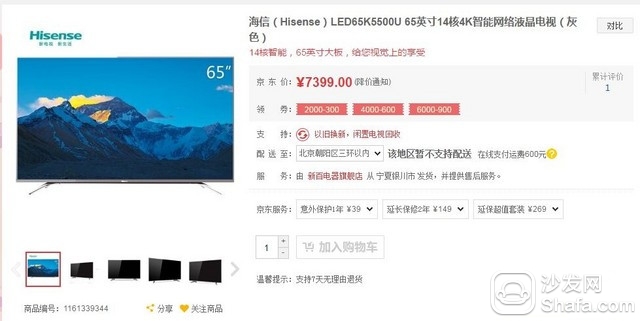 Hisense LED65K5500U 4K VIDAA smart TV uses a newly designed VIDAA1.5 system, which has no homepage design and simple operation. Users can use the remote controller to quickly start the four applications of live TV, VOD video on demand, media playback and smart applications. With waterfall-style changing and unobstructed stage changing, you can watch TV programs better.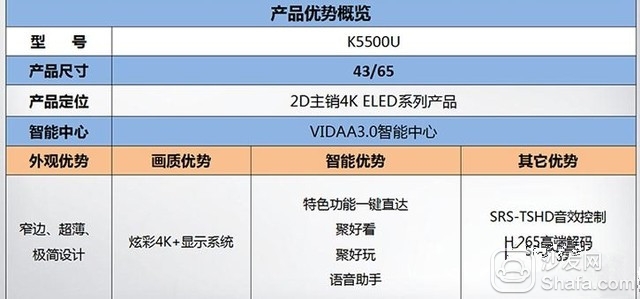 In terms of smart applications, this Hisense LED65K5500U 4K VIDAA smart TV also integrates Hisense App Store features, provides a variety of applications customized for 4K Ultra HDTV and fun 3D games. Users can easily install massive amounts of Android apps and games that are easy to find.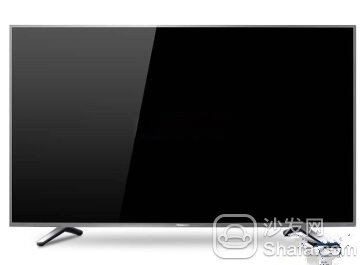 Front view of the whole machine
Hisense LED65K5500U as a 65-inch 4K VIDAA smart TV, not only in the resolution to 4K standard, in the user interface and application support, but also through a new optimization, also equipped with USB3.0 interface, support for direct reading playback 4K video The four unique applications of VIDAA TV, such as one-touch direct access, waterfall console, and smart app store, also bring a very good experience to the user's viewing experience.
Hisense LED65K5500U
[Reference price] 7399 yuan
The Samsung UA65JU5900 is a smart TV with a large 65-inch screen. This product has Ultra HD 4K (38402160) resolution, and supports usb video / audio / image playback mode, the sound is also very powerful, 3D sound, HD audio, TV audio connections, virtual surround sound, Samsung Smart Center support It is very good for the user to use it. Friends who are interested in this product can learn more about it.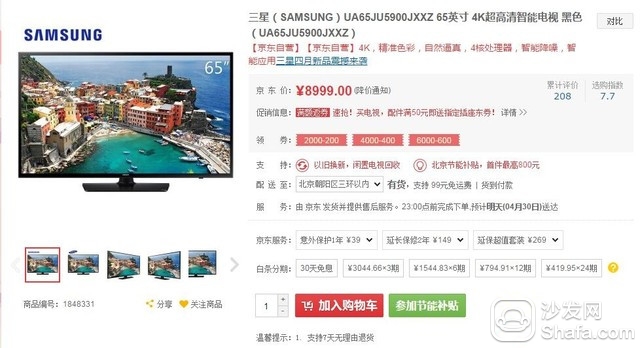 Samsung UA65JU5900 smart TV has a very good design, using a combination of extremely narrow frame carrying metal bracket base design, looks very dexterous, for 65 inches, this design is undoubtedly great, at least not to leave The huge bloated feeling of oversized TVs. The center-symmetric base design is simply the savior of the obsessive-compulsive disorder.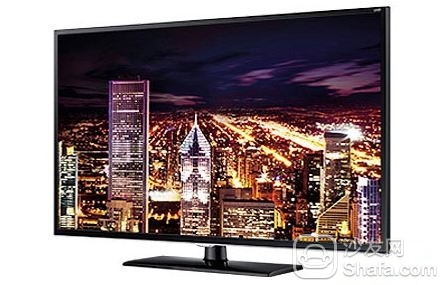 Samsung UA65JU5900 smart TV screen size is 65 inches, the screen ratio is 16:9, screen resolution is 3840×2160, supports 2160P HD format video playback, very good. The whole machine supports 3D function, built-in wifi module, equipped with 4 HDMI interfaces, enhances practical performance, and can provide the user with the best real picture that is closest to the realistic scene.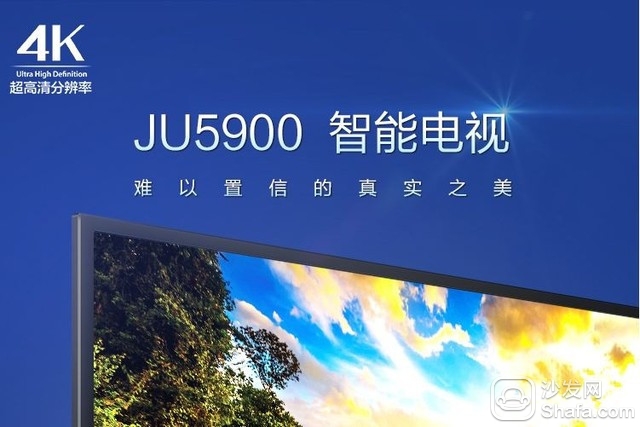 In addition to the necessary features, the Samsung UA65JU5900 has new features compared to many TVs on the market. Built-in wireless network adapter, one second boot, BD Wise Plus Blu-ray smart connection, terrestrial wireless digital signal receiving module, and many many very useful features are waiting for your development. If you are interested in this smart TV product, you may wish to take some time to learn more about it.
[Reference price] 8999 yuan
The Korean brand LG has exhibited its flagship series, the new wide-range color television, at the 2015 CES Consumer Show in the United States and the AWE China National Fair. The UF9500-CA series of televisions use Wide Color LED (WCL) technology, with beautiful colors, and equipped with the latest webOS2.0 smart operating system, the control is very convenient and smooth. At present, this product is priced at 20,888 yuan in the Jingdong Mall, and enjoy a discount of 900 yuan under the order, there are many useful small gifts, friends who are interested in this product can in-depth follow-up to find out.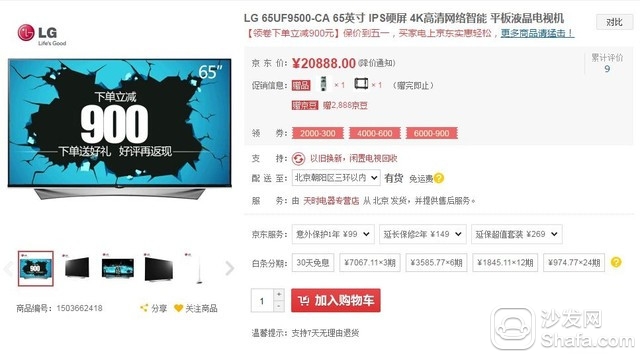 The 65-inch LG 6LG 65UF9500-CA TV's first impression is its ultra-thin, ultra-thin body with a very narrow thickness, which allows TV to better integrate with the home environment and create a sense of substitution. Visual effects. The beautiful shape also incorporates some practical designs. For example, the unique design of the theater is used in the pedestal, which can use the echo to create a theater-like listening experience.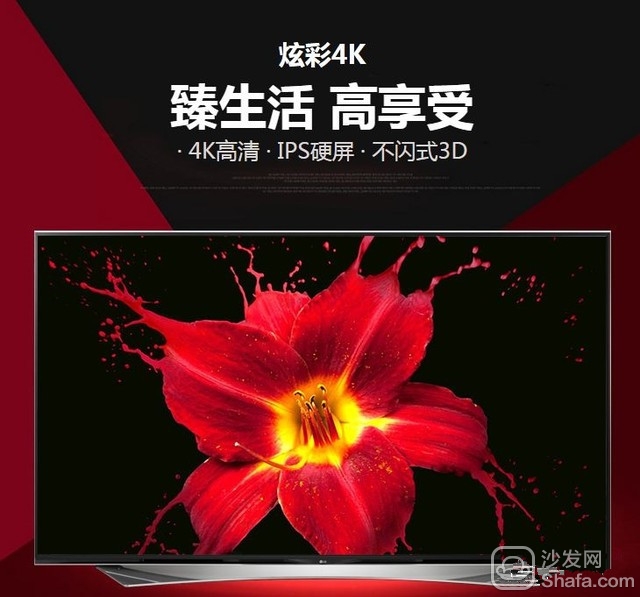 In terms of picture quality, hard-screen 4K and Pan-wide color gamut technology use Wide LED (WCL) to use different LED phosphors to enhance backlight color purity, thereby creating a more colorful picture. Sounds, this TV is equipped with Harman Kardon's audio equipment, providing high-fidelity sound and surround sound effects. System, this TV is equipped with the latest LGOS webOS2.0 operating system, the minimalist interface is fun and easy to learn, all kinds of operations are very quick and simple, minus unnecessary steps. At the same time, support for instant viewing, adding devices and searching is simpler, and users can easily find and watch favorite content.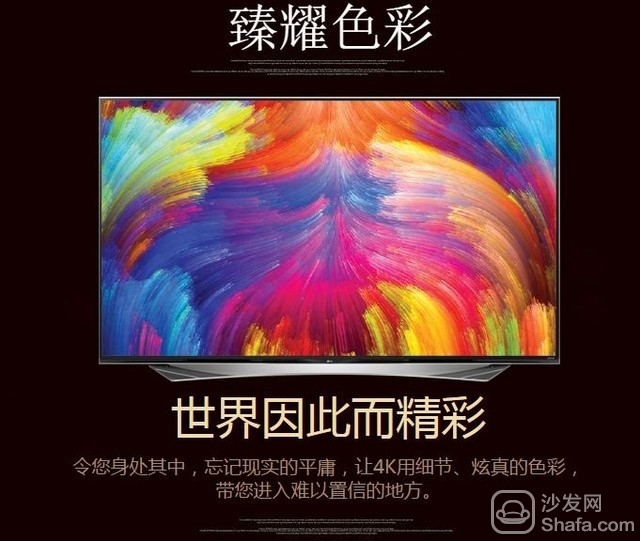 The high-quality 4K hard-screen panel has created the excellent picture performance of the LG65UF9500-CA TV. The wide color gamut technology ensures the color of the image. The minimal webOS2.0 operating system allows users to use the TV more conveniently and efficiently. In addition, this TV also supports non-flash 3D technology, with the stereo sound effects of Harman Kardon, can provide a very shocking and realistic picture.
[Reference price] 20888 yuan
A Buzzer or beeper is an audio signalling device, which may be mechanical, electromechanical, or piezoelectric (piezo for short). Typical uses of buzzers and beeper include alarm devices, timers, and confirmation of user input such as a mouse click or keystroke.

Buzzer
Piezo Buzzer,Dc Electro Magnetic Buzzer,Buzzer Acoustic Components,Piezo Buzzer For Thermometer
Jiangsu Huawha Electronices Co.,Ltd , https://www.hnbuzzer.com