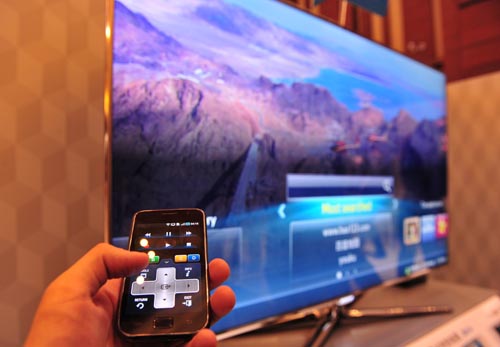 In the first three quarters of this year, China's major color TV listed companies all achieved profitability and revenue growth. This means that the domestic color TV industry has started to pick up, spurred by the energy-saving subsidies policy.
Yu Weili, general manager of Aowei Consulting, recently held in the third quarter of 2012, the economic operation of China's electronic information industry and color TV industry research conference, said that the popularity of smart TV will inevitably cause the color TV industry to reshuffle again, in a new round of The key to winning the competition lies in brand innovation capabilities. In August and September of this year, new products based on smart TVs were launched intensively, covering not only the latest intelligent technologies such as cloud television, dual channel, gesture recognition, voice control, dual-core, and 4K, but also the smart TV industry from the perspective of display technology and application technology. Once again, innovation and upgrading will make smart TV product technology more diversified, product structure more rational, and smart applications more human-oriented, effectively accelerating the promotion and popularization of smart TV market. With the deepening of intelligence, smart TV will bring great changes to the color TV industry's industry structure and business model.
NPD DisplaySearch, a market research organization for smart TV penetration rate, pointed out that after the Chinese LCD TV market experienced a downturn in the entire first half of 2012, sales in the "1·1" Golden Week delivered a 15% annual growth. Among them, smart TV is the focus of both Chinese and foreign brands during the Golden Week. It is estimated that the overall penetration rate of domestic smart TVs will reach 40% in 2012, and the penetration rate will approach 70% by 2016. China has become the world's most advanced smart TV. Fast (compared to other mature areas).
In smart TV, NPDDisplaySearch shows that traditional TV manufacturers and consumers often do not need any interaction. After consumers purchase TV products, they can watch video programs simply by completing a simple device connection at home. Now that the penetration rate of smart TVs in the Chinese market has exceeded 30%, smart TVs will gradually become mainstream products in mid- to high-end consumer groups. Color TV manufacturers have a hard time impressing consumers with simple hardware specifications, and they must combine more with smart TVs. Content providers, interface device providers, related industry regulatory agencies, and various derived business models.
The core part of a smart TV is content. As early as 2008, smart TVs launched by domestic color TV manufacturers such as TCLmiTV, Skyworth Cool Open, Haier Mode Card and Changhong Music Education were mostly Internet TVs controlled by manufacturers. This type of Internet TV uses LCD TV + network interface + Thunder, Sohu and other online video content, is a closed product.
By the second half of 2010, Skyworth, China Smart Societies and other manufacturers and agencies launched smart TVs using the Android platform. Based on an open platform, they imported third-party web content. The content of China's smart TV products gradually shifted from closed to open. At present, most of the smart TVs sold on the Chinese market are consumer-controlled smart TVs.
NPDDisplaySearch emphasized that from the perspective of the industry chain, hardware, terminals, a considerable portion of broadband infrastructure, and whether the country's macro policies support it are important factors in the development of smart TVs. Therefore, whether the development of smart TV can enter the next new stage, the subject that color TV manufacturers must face is not mere hardware. The software conditions such as content, application and derivative business model of smart TV are more important.
Competition shifts from hardware to software "Because television has become an indispensable part of every multi-screen, digital, and network-connected home, the ability to provide users with more online experiences with personalized content will be key to attracting more users." Lin Lan, Vice President of Hisense Group, said.
Compared with other machine companies, Hisense is one of the companies that has extended the deepest downstream industry chain. In October of this year, Hisense partnered with Opera Software to take the lead in introducing a Linux-based software development kit and a leading HTML5 engine to its newly developed series of televisions to make Hisense TV more personalized.
The smart wave has taken a big stride and enriched the smart applications of color TV products. Doing a humanized experience has become a consensus of enterprises and has had a major impact on the strategic adjustment of some TV companies. The most obvious example is Sichuan Changhong.
A few days ago, Changhong announced that the company will terminate the purchase of the "Ouliian PDP" equity from the major shareholder Changhong Group. This means that plasma is no longer the strategic focus of Changhong. In fact, starting this year, Changhong has already adjusted its propaganda direction, focused on creating a "real smart" product image, and organized "in-house purchase conferences" around the country to promote smart TV products and try to improve smart TV products through large-scale marketing. The proportion of.
"Changhong has switched to smart TV this year. After the National Day, smart TVs accounted for 40% of Changhong TV sales. It is expected that this proportion will exceed 30% in the whole year. Smart TV will increase the revenue and profit level of Changhong TV." Changhong is responsible for People said. Changhong can have such a smart scale, and it is inseparable from Changhong's painful smart reform.
It is not difficult for a traditional color TV company that is accustomed to hardware to become soft. The easiest way is to establish cooperation with downstream content providers to implement resources. In March of this year, Skyworth held a new conference in Shenzhen to launch a high-profile launch of the world's first cloud TV with a health management system. The so-called "cloud health" series of televisions is a masterpiece of comprehensive cooperation between Skyworth and third-party health management agencies. Through the built-in health management system, TV sets can be used to tailor a reasonable health plan for the family. As a result, the functions of the TV can be extended. The added value of the product also increases.
At present, domestic color TV companies generally have close cooperation with third-party content providers. For example, Hua Digital Media is a well-known video on-demand supplier, and it has been implanted in many brand TVs. In addition, in September this year, Konka cooperated with CNTV, China's top video platform, to provide users with 3D HDTV, interactive entertainment, family photo albums, video calls, TV shopping, multi-screen interactive and many other services. The person in charge of CNTV appraised this cooperation and opened up the "barrier between content service providers and hardware manufacturers". It is a model of "software and hardware integration" and "resources complement each other".
The terminal penetrated upstream. Skyworth teamed up with Ulead Pulsing, Hisense worked with CNTV and Huada, TCL and Changhong cooperated with Huanwang, upstream penetrated downstream, BesTV made a "box", LeTV developed SmartTV plans, Tencent and TCL Jointly launched Zhiping iCESCREEN, IT companies also do television, Lenovo launched smart TV, Google has a TV system, Apple also has a TV program. Peng Jianfeng, director of the research and consulting department of the China Electronics and Video Industry Association, believes that cross-border integration will occur in the next few years and televisions will be redefined. The focus of TV competition is shifting from hardware to software.
Extrusion Neon LED Strip the hottest product in the world. It is extruded and has good waterproof performance.
The milky white cover makes the led strips soft and even, single color and RGB ,colorful and other colors are optional
and the external controller can achieve the effect. IP68 waterproof can be used for outdoor decoration,
often used for building decoration, Christmas decoration and other places. The installation is simple and convenient,
the repair is simple, and the scope of application is wide.
Extrusion Neon Led Strip
LED Neon Lights,Neon LED Strip Lights,Extrusion LED Neon Flex Strip,Extrusion Neon LED Strip
SHEN ZHEN SEL LIGHTING CO.,LTD , https://www.sel-lighting.com