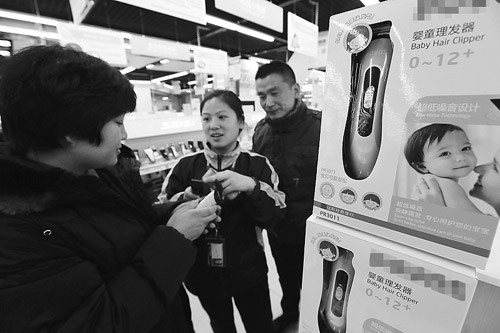 With the advent of the "80s" parental fertility peak, infants and young children's appliances have also ushered in an upsurge of market sales. The reporters found that infants and young children's household appliances are still called "newcomers" in the field of household appliances, but they are developing very fast. The products on the market are very rich, such as bottle sterilizers, baby hair clippers, baby nail clippers, warm milk devices, babies. Food conditioners and the like are almost always available in the market as long as they can be used by infants and young children. However, the reporter also found that due to the lack of relevant standards, low barriers to entry, infant and young children home appliance market mixed, high prices, poor quality products are flooding, is eroding its "immature body."
Giants have become increasingly popular with sales

With the increasingly diluted profits of home appliances and increasingly fierce market competition, the search for a new competition Blue Ocean has always been the quest of major home appliances companies. In recent years, the infant appliance industry, which has maintained a high-speed growth of over 200% and has an amazing profit, has certainly not escaped the eyes of home appliance giants and has entered the market with force. According to report, in addition to foreign brands such as Panasonic and Philips, which have long been in the market for infants and young people's home appliance market, local home appliance giants such as Midea, TCL, Gree, and Haier have also stepped in, and the pace is alarming. A new wave of sales in the infant appliance market.
Not long ago, Haier formally launched a comprehensive range of infant and young household appliances, and launched it on the Haier Mall. On that day, Haier's online subscription for infant and young children's appliances exceeded 29,551. According to report, in order to successfully attack the infant appliance market, Haier Group has introduced five new R&D centers in the world to introduce baby thermostatic milk regulators, infant multi-dimensional food supplement mixers, baby steam sterilization pots and other products, which can provide 60 seconds of speed milking, 40 °C Accurate temperature control, healthy supplementary food production, fresh fruit and vegetable juice, multi-capacity bottle disinfection, egg squid shrimp cooking and many other scientific feeding solutions.
In addition to its comprehensive product launch, Haier has also taken advantage of its services to provide young parents with a full range of services ranging from product purchase and use to infant and young child feeding. For the "80s" parents keen on the characteristics of online interactive sharing, for them to build a public community platform, to create the Internet era full range of advocacy science parenting interactive mother and baby appliances interactive community "Youzhi Mommy Hui." In addition, Haier's infant appliances rely on Haier's official website and "Baby Tree," one of the nation's largest maternity and child care websites, to introduce high-quality experts in response to the current mixed appliance market for infants and young children, indiscriminate advertising, and consumers' choices. Resources, answering doubts, guiding the "Dr. Dad hot mom" scientific feeding. Introduce the EuTang group to share scientific feeding experiences to experience the mothers' help to avoid misunderstandings and use real user word-of-mouth to help mothers select infant products correctly and realize scientific infant feeding.
In an interview, the reporter found that now infant and young children's appliances have not only become mandatory products for young parents, but also the gift of choice when people congratulate young parents. Industry experts said that the potential of the infant and young household appliances market is huge and it is showing an explosive growth trend. This year, the market capacity is expected to reach 8 billion yuan, and it is even possible to exceed 10 billion yuan.

Online Ice and Fire

Although the infant appliance market is booming, the popularity is very high. However, a survey by the reporter found that most of these hot trends are now gathered online, and offline stores are deserted. On the one hand, there are few varieties of infant household appliances in home appliance stores. On the other hand, few consumers come to buy.
Haier, who had just entered the baby home appliance market recently, chose to start online and won a good start. The reporter entered the "baby hair clipper" on the shopping website and jumped out 15,000 pieces of baby on the system. Others such as electric milk mixer, warm milk, music toilet, bottle sterilizer, baby food conditioner, baby mosquito repellent and other infant appliances in all kinds of online mall is everything. The number of daily visits to a certain brand of warm milk bottle can reach thousands of times, and there are tens of thousands of transactions for a certain brand of baby hair clippers on Taobao in one month.
Reporters visited the Beijing home appliance store and found that although online infant appliances sales are hot, but home appliance stores are rare sales, even if there is a single style, brand scarcity, consumers simply can not compare. Ms. Song, a consumer who lives in Haidian District, Beijing, told reporters that her daughter was just over 1 year old. She searched the Internet for a variety of small appliances that were specially designed for infants and young children. She was afraid that the quality of online orders would be difficult to guarantee. Home appliance stores and infant and baby supplies stores specifically searched for these things, but found that either did not, or incomplete varieties, can not be compared, and finally had to go online to buy some.
Why is it that there are two hot spots in the online and offline? According to Hong Shibin, deputy director of the China Home Appliances Marketing Council, this is mainly because there are too few well-known companies involved in related products, and small brands do not have the strength to enter the chain stores. In online malls, sellers do not need huge amounts of money to support the sales of small household appliances for infants and young children. The sales methods are more flexible. Consumers can place orders first, and sellers can then purchase according to the order. In addition, the "80s" parents' consumption patterns and choices of purchasing channels are also important factors. The relevant person in charge of Gome believes that the consumer groups of infant and young household appliances are rather special, and the scale of the manufacturers is too small to establish a foothold in home appliance stores.
The lack of standards is a bit messy

Although the home appliance market for infants and infants is developing rapidly, it is still in its infancy. The lack of related industry standards and low barriers to entry have caused the market to be mixed, with counterfeit and inferior products flooding and consumers' rights and interests being difficult to protect.
Ms. He, a Beijing consumer, told reporters that from the birth of her child to the present, she had already bought more than a dozen infant and child household electrical appliances online, but many products were lost because of quality problems. She said that when a child is born, she is often full of milk and she does not use her back. The child had a runny nose that was clogged. When the nasal suction device touched the nose, he would cry. Learning to drink a cup of drinking water, children do not want to drink, take it as a toy bite to play. The most annoying thing is the egg steamer, because the product smells too much and he can't use it when he buys it. He simply loses it.
Lu Jiebo, deputy secretary-general of the China Electronic Chamber of Commerce, told reporters that at present, there are no uniform production standards and related regulatory documents and regulations for infant and young children's home appliances. The threshold for market entry is very low. Most of the products sold online today are small businesses and even Produced by a family workshop, consumers buy such products. Once they have problems, they have no place to look for them.
In addition to the lack of quality protection, the price of infant and young home appliances is also extremely confusing. A survey by the reporter found that the price of the infant's household appliances has risen to a large extent. For example, bottle sterilizers with ultraviolet sterilization function are priced at up to thousands of dollars. The core device is the installation of ultraviolet lamps; however, the market price of regular ultraviolet disinfection lamps is only tens of dollars. The price of bottled sterilizers imported from the UK is 738 yuan. The working principle is very simple: After the electricity is turned on, the water in the plate is heated to form steam at a high temperature to complete the disinfection of the bottles. The price of a certain brand of soya-bean milk machine with the function of "baby complementary food" sold by a certain store is as high as 700 yuan, and the price of ordinary soybean milk machine is as high as two or three hundred yuan.
In response to the lack of standard for infants and young children and the current market confusion, Xu Dongsheng, secretary-general of the China Household Electrical Appliances Association, said in an interview with reporters that the rise of the home appliance market for infants and young children provides a new blue ocean for home appliance companies. Home appliance companies should cherish opportunities and actively regulate the market. , improve product quality and care for the purity of this blue ocean. At the same time, Xu Dongsheng also reminded consumers that in the absence of relevant standards, they must look for 3C certification at the time of purchase, and try to purchase well-known brands to prevent injury to the health of children.

The company has five major points of focus

There are various problems in the small appliance industry for infants and young children, and the entire industry needs standardized operations. Only when relevant laws and regulations are promulgated by the state, can we provide sound policy support for the operation and development of infant and small household appliance enterprises, and constantly standardize the business behavior of the company, so as to provide a strong guarantee for the long-term development of the industry. Of course, in addition to the hope of changing the industry environment, infant and small household electrical appliance companies need to make efforts in the following areas:
1. Understand the unmet needs of consumers. Consumer demand is always an inexhaustible motive force for corporate development. Enterprises should start from consumers, do a good job in research, continue to tap the unmet needs of consumers, and through data support, find out the direction of product development, and provide effective support for formulating the correct market strategy.
2, build product strength. Enterprises should start from the self and carry out standardized operations: increase capital investment and R&D efforts, and develop products that meet consumers' habits. Enterprises not only need to improve their product design and appearance, but also more importantly, develop a variety of quality products that are suitable, operational, and reasonably priced, and constantly update their products and product lines.
3, online and offline channels double coverage. The access threshold for offline channels is high, the cost is high, and the profit is relatively low. On the other hand, online management has caused consumers to worry about issues such as quality. Infants and young children small household electrical appliance enterprises can choose baby products stores, baby products stores and supermarket counters as offline channels, and cooperate with the online two-pronged approach to jointly promote sales growth.
4, to create a three-dimensional communication mode. The status quo of shortage of funds for infant and small household appliances enterprises can be based on the use of online media, ground-based channels and product packaging, and television and print media as the auxiliary three-dimensional transmission methods.
5. Formulate reasonable sales promotion strategies, fully mobilize the enthusiasm of salespersons, conduct powerful promotions, and conduct cognitive education for consumers to encourage rational consumption. The ultimate goal of three-dimensional communication is to raise brand awareness in all directions and occupy consumers' hearts.
Piezoelectric Ceramic Ring



Applications: ultrasonic vibration tranducer for inkjet printer



Vibration mechanism of inkjet printer:

Generally, it is composed of piezoelectric ceramics and driving rods. By high-frequency electric excitation, piezo ceramics produce high-frequency ultrasonic vibration (above 60 kHz or higher), which is transmitted to the driving rod and generates high-frequency micro-displacement (back and forth expansion) at its front end.

Piezo ceramics components features :

1. High vibration amplitude and can withstand higher power.
2. The product has high reliability, strong maintainability, and is not easy to break down or off-line.
3. The frequency can be adjusted in a wide range, generally within the range of 10KHz.





Yuhai support all the new developping transducer, Welcome the customized elements inquiry.




The present Piezoelectric Elements For Inkjet Piezo Transducer is following :



Piezo rings OD4*ID2*2.5mm price USD1.20/pc, 2000pcs
Material: PBaS-4
Fr.: 694 KHz ±5KHz
K33: ≥0.55
Tg loss <0.5%
Ct 60pF ±12.5%

Piezo rings OD4*ID2*2.5mm price USD1.20/pc, 2000pcs
Material: PSnN-5
Fr.: 626KHz ±5KHz
K33: ≥0.57
Tg loss < 2%
Ct 53pF ±12.5%

Piezo rings OD6*ID2.5*2mm price USD1.50/pc, 2000pcs
Material: PZT-41
Fr.: 785 KHz ±5KHz
K33: >0.53
Tg loss < 0.5%
Ct 107 pF ±12.5%

Piezo Rod OD3*7mm price USD1.20/pc, 2000pcs
Material: PLiS-51
Fr.: 192 KHz ± 3KHz
K33: >0.62
Tg loss < 2%
Ct 18.7 pF ±12.5%
Piezoelectric Elements For Inkjet Piezo Transducer
Inkjet Piezo Transducer,Piezoelectric Vibration Tranducer,Piezoelectric Rings,Piezoelectric Elements For Inkjet Piezo Transducer
Zibo Yuhai Electronic Ceramic Co., Ltd. , https://www.yhpiezo.com