Suzhou Samsung Electronics Co., Ltd. (hereinafter referred to as Samsung Electronics) is a manufacturer specializing in the production of household appliances, including air conditioners, refrigerators, washing machines, air conditioner compressors, refrigerator compressors, and core components used in air conditioner refrigerator washing machines - PBA motherboards. In addition to selling well in the domestic market, the products are also exported to more than 100 countries and regions around the world. The company has always attached great importance to technology and process innovation, and is committed to continuous innovation and continuous bringing more and better home appliances to the society.
This article refers to the address: http://
Samsung Electronics has more than 1,000 R&D teams, and a large number of new products are launched every year. The production lines are constantly being adjusted and improved with the emergence of new products.
Quality is definitely the foundation of the company's survival. Samsung Electronics attaches great importance to quality and strives to introduce a scientific production management system. The company requires traceability for every detail of production, minimizing the impact of human judgment in order to maintain strict control over its production processes and product quality.
The company has established a traceability management system from raw material supply to home appliance after-sales service. Bar code technology is an important part. Bar code technology greatly improves the efficiency of production department management and monitoring, which not only improves product quality, but also improves the efficiency of home appliance logistics and after-sales management. Now, Samsung Electronics is introducing QR code to implement traceability management of home appliance parts, production integration process, warehouse management logistics, and network sales.
The two-dimensional code records information by regularly distributing a specific image on a two-dimensional plane. The two-dimensional code has a large information capacity, strong error correction capability, high reliability, and can represent various information such as letters, numbers, Chinese characters, and images. The advantages of strong security and anti-counterfeiting. At present, the application of more powerful QR codes in the home appliance industry is increasing.
However, the application of QR codes in home appliance production lines must be combined with the characteristics of their on-site processes, otherwise some tricky technical problems will arise.
When Samsung Electronics began to use QR codes on its products, due to the small size of the barcode, online employees had to manually scan the QR code to ensure 100% scanning into the product library. However, because the bar code is too small, only 8*8mm (as shown in Figure 1), the metal surface is too reflective, and the contrast is insufficient, which makes the point-shaped QR code difficult to read. Samsung Electronics has tried a variety of QR code scanners and can't achieve 100% reading. In addition, Samsung Electronics is advancing the provincial strategy to reduce excessive labor costs. Therefore, Samsung Electronics' equipment engineers need to find a highly skilled supplier to help them solve the above problems.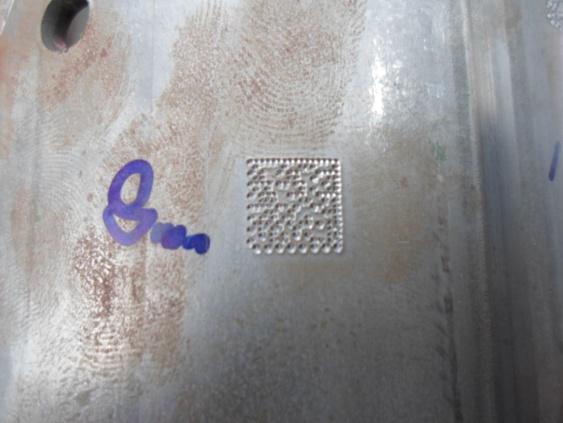 figure 1
"We will often participate in some professional exhibitions to understand the latest developments in the industry." Samsung Electronics' equipment engineer said, "At an exhibition, I saw the Cognex DataMan code reader, which is easy to use. I am very impressed."
As a result, Samsung Electronics' equipment engineers found Cognex and conducted in-depth communication and communication. Based on the influence of the Cognex brand in the industry and good reputation, Samsung Electronics decided to use Cognex's DataMan code reader to meet the requirements of reading the metal surface QR code.
"Since we adopted the image-based DataMan code reader (as shown in Figure 2), we successfully solved the problem of manually scanning the QR code. And the light source in front of the reader adds a light source that can eliminate the reflection of the metal surface, so that it can be quickly Read the QR code other than 200mm." Samsung Electronics' equipment engineer said, "We are surprised to see that it is difficult to read the two-dimensional code that is difficult to read due to reflection, distortion, fading, etc. due to the material of the printing surface, lighting, etc. When it comes to super high performance."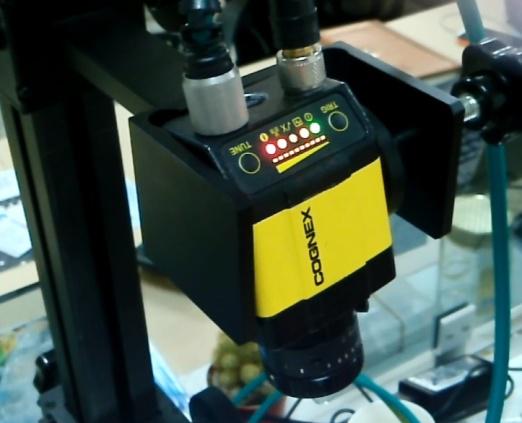 figure 2
Combining state-of-the-art software and hardware, the DataMan reader is a high-performance code reader that accurately reads QR codes in any state. The outer casing of this reader is a sturdy industrial casing. It not only has Cognex's patented 2DMax+ powerful reading algorithm, but also Cognex's Hotbars image analysis technology. No special settings are required. Can be read quickly.
"Cognis has helped us in the reading of QR codes." Samsung Electronics' equipment engineers pointed out that "DataMan readers can automatically scan QR codes, greatly reducing labor costs. Samsung Electronics promotes QR codes in more fields, and we believe that there will be more cooperation with Cognex."
18650 protected batteries have an electronic circuit.
The circuit is embedded in the cell packaging (battery casing) that protects the cell from [over charge", heat or [over discharge", over current and short circuit.
A 18650 protected battery is safer than an 18650 unprotected battery (less likely to overheat, burst or start on fire).
18650 Cell, 18650 Charger, 3v battery
Ji'an Powercom New Energy Co., Ltd. , https://www.expowercome.com